Service Governance - Well Established Best Practice Library
From Service Governance
Service Governance - Well Established Best Practice Library
Best Practice History
Though Service Governance is directly based on the corporate governance advice contained in the Cadbury Report and the King Committee, it is also based on a library of Best Practice books to enable the governance to become embedded in the operations of the organisation.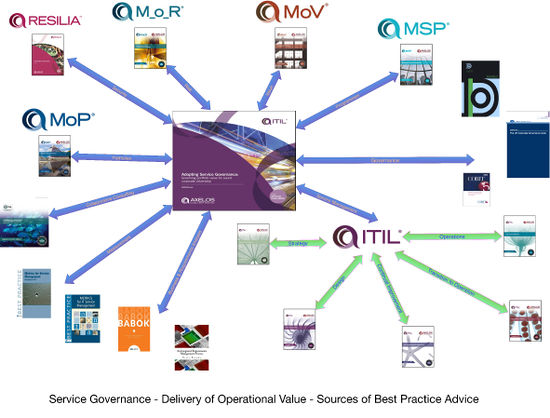 Operational Governance
Service Goveranance provides the link between the Board, or other governing body, and the day-to-day operational working of the organisation. The work of the organisation is defined by the services it provides to its customers, the services it uses and delivers internally, and the services it receives from third parties. The powerful metaphor of a 'service' is used to design, build, transition and operate the service. The service is designed to deliver the value required by the organisation, defined by the governing body, at the required cost - and to report, in real time, on this provision through the service portfolio.
Integrated Best Practice
Service Governance integrates advice from Best Practice developed by the following communities:
The Cadbury Report
The King Committee on Corporate Governance
The Management of Value
The Management of Portfolios
The Management of Risk
The Management of Sucessful Programmes
Business Analysis
ITIL®

Service Governance
Service Strategy
Service Design
Service Transition
Service Operation
Resilia (CyberSecurity)
Continual Service Improvement

The Open Group Architecture Framework (TOGAF®)
Cobit IT Governance